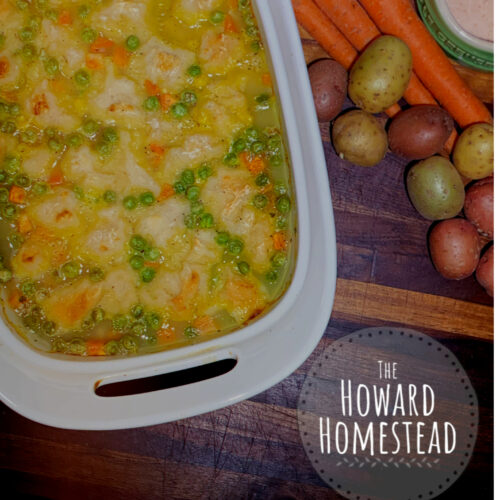 Ultimate Chicken Pot Pie Bubble Up
This delicious Chicken Pot Pie Bubble up is WW friendly, coming in at 4SP on the Blue plan! The perfect balance of healthy meets comfort food. Enjoy!
Ingredients
2

Chicken Breast

4

Cups

Water

1

Tbsp

Savory Seasoning (or Italian will work)

1

Tbsp

Garlic Powder

1

Tbsp

Onion Flakes

1

tsp

Salt

1

tsp

Pepper

1

Cup

Frozen Peas & Carrots Medley

1

Can

Corn (drained)

12

Baby New Potatoes

2

cans

98 Fat Free Condensed Chicken Soup

1/2

cup

0% Fat Greek Yogurt

1/2

cup

Self Rising Flour
Instructions
Pre-heat oven to 375 degrees F.

Place chicken breast in a pot with 4 cups of water. Add savory seasoning, garlic powder, onion flakes, salt, and pepper. Bring to a boil and cook until chicken reaches 165 degrees.

Mix greek yogurt and self rising flour in a bowl until mixture comes together. Form into a ball and place in fridge for later.

Remove Chicken from water, add quartered new potatoes to the same boiling pot of seasoned water. While potatoes cook, shred or dice your chicken breasts.

Remove fork tender boiled potatoes into a bowl with a slotted spoon. Pour seasoned liquid into a large bowl, and add back 1 1/2 cups of seasoned liquid to pot over medium/low heat.

Pour 2 cans of 98 fat free condensed chicken soup into pot, stir. Add frozen peas/carrots, corn, potatoes and chicken. Simmer for 10 minutes. Salt and pepper to taste

Pour chicken pot pie mixture into casserole dish. Top with small 1 inch tears of 2 ingredient dough from refrigerator.

Place chicken pot pie casserole into preheated oven and bake for 50 minutes. The top should be slightly browned and bubbly.

Let cool for 5 minutes and serve. Enjoy!